EXHIBITIONS
MASTERPIECE LONDON 2019
27 June (Thur) - 3 July (Wed) 2019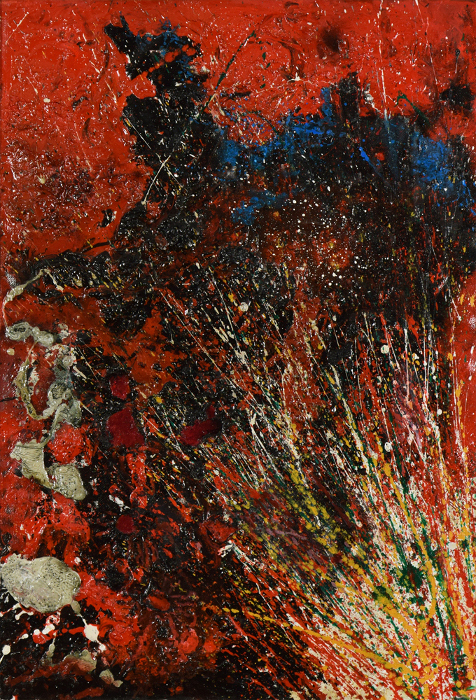 NUKAGA GALLERYは、MASTERPIECE LONDON 2019に出展致します。
ロンドンで開催されるこのアートフェアでは、白髪一雄や名坂有子、そして今井俊満や草間彌生といった日本の戦後美術の旗手たちの作品と共に、ステンレスやファイバーグラスなど様々な素材を用い、物質と知覚の普遍性を問う作品を制作するAnish Kapoorの立体作品、コンセプチュアルな問いをこめたミニマルなモチーフを用い、瑞々しい筆致で半抽象絵画を制作するJosh Smithの作品を展示いたします。
ロンドンにお越しの際はぜひお立ち寄りください。
皆様のご来場を心よりお待ちしております。
NUKAGA GALLERY is pleased to announce its participation in Masterpiece London 2019.
Alongside works by post-war Japanese artists including Kazuo Shiraga, Yuko Nasaka, Toshimitsu Imai and Yayoi Kusama, the gallery will also exhibit a sculpture by Anish Kapoor and paintings by Josh Smith. While Kapoor questions notions of materiality and perception using a diverse range of media from stainless steel to fibreglass, Smith's semi-abstract paintings communicate his conceptual ideas though minimalist imagery and expressive brushstrokes.
We look forward to welcoming you at booth C22.
プレビュー

6月26日(水) 11:00 – 21:00
Preview

June 26  11:00-21:00
一般公開

6月27日(木) 11:00 – 21:00
6月28日(金) 11:00 – 19:00
6月29日(土) 11:00 – 19:00
6月30日(日) 11:00 – 19:00
7月 1日(月) 11:00 – 21:00
7月 2日(火) 11:00 – 21:00
7月 3日(水) 11:00 – 21:00
General Admission

June 27  11:00-21:00
June 28  11:00-19:00
June 29  11:00-19:00
June 30  11:00-19:00
July 1  11:00-21:00
July 2  11:00-21:00
July 3  11:00-21:00
出品作家

今井俊満、白髪一雄、名坂有子、草間彌生、Anish Kapoor、Josh Smith、Marlene Dumas
Exhibited Artists

Toshimitsu Imai    Kazuo Shiraga    Yuko Nasaka   Yayoi Kusama  Anish Kapoor  Josh Smith  Marlene Dumas
会場

South Grounds, The Royal Hospital Chelsea, London, SW3 4LW
Venue

South Grounds, The Royal Hospital Chelsea, London, SW3 4LW
Preview

June 26  11:00-21:00
General Admission

June 27  11:00-21:00
June 28  11:00-19:00
June 29  11:00-19:00
June 30  11:00-19:00
July 1  11:00-21:00
July 2  11:00-21:00
July 3  11:00-21:00
Exhibited Artists

Toshimitsu Imai    Kazuo Shiraga    Yuko Nasaka   Yayoi Kusama  Anish Kapoor  Josh Smith  Marlene Dumas
Venue

South Grounds, The Royal Hospital Chelsea, London, SW3 4LW