EXHIBITIONS
Art Basel Hong Kong 2021
Hong Kong 19 May (Wed) - 23 May (Sun)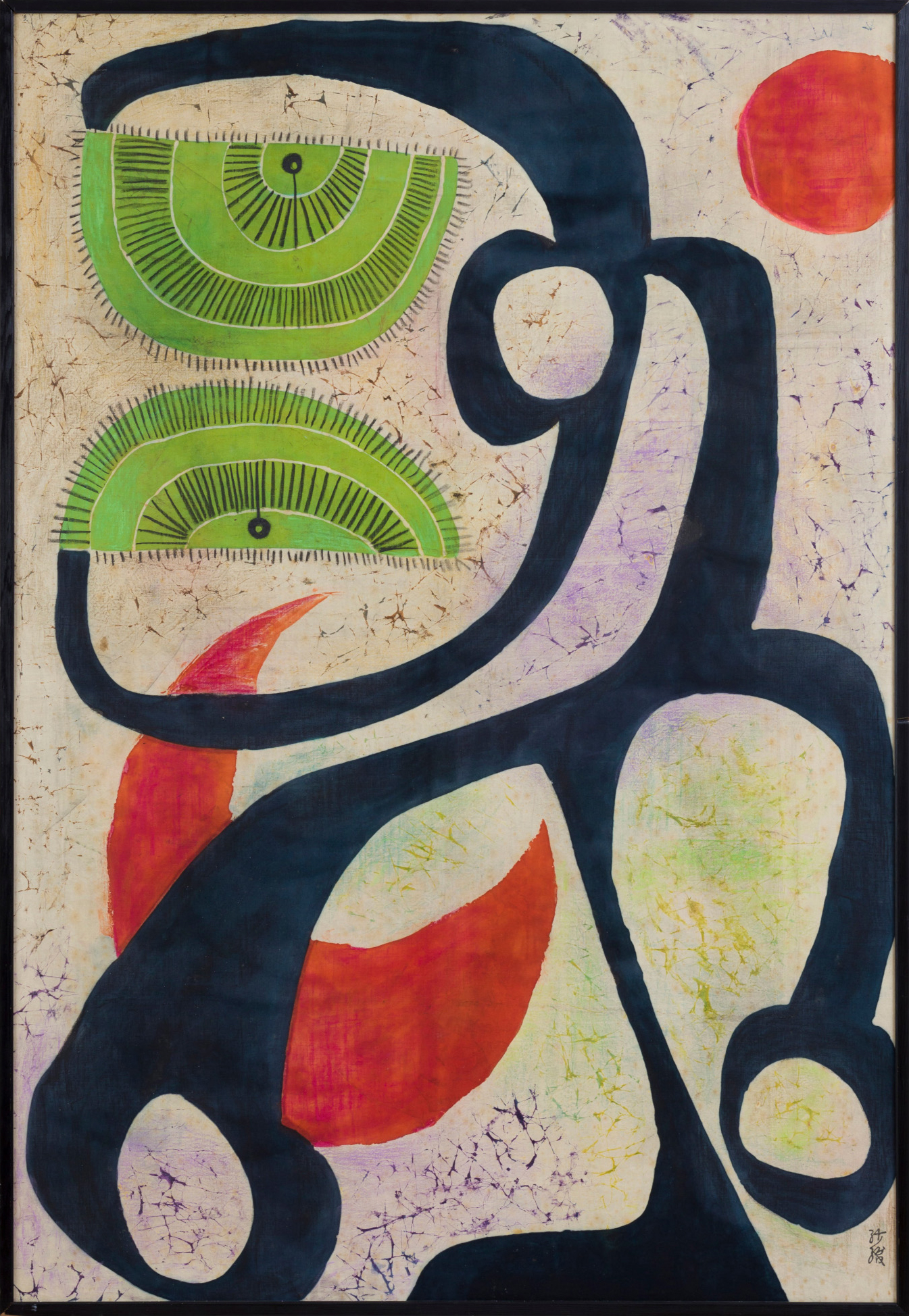 NUKAGA GALLERYはArt Basel Hong Kong 2021に出展いたします。
弊廊では2016年秋にDemythifying Japanese Women Artists-女たちは神話をほどく-と題し、桂ゆき、草間彌生、田中敦子、名坂有子を取り上げた展覧会を開催し、その後も、その前衛的でユニークな活動が見過ごされている戦後女性アーティストの再評価を積極的に行ってまいりました。その一環として、本フェアでは芥川紗織と桂ゆきの作品を展示いたします。
芥川紗織は1924年生まれ、大学で声楽を学んだ芥川は、作曲家との家父長的な結婚生活の中で、自分を語る手段としてほぼ独学で染色や油絵を描き始めます。1950年代に入り徐々に作品を発表し始めると、抑圧された女性の内なる叫びを表現するような染色による<女>シリーズを描き、批評家たちから強い注目を集めます。1955年に始めた<神話><民話>シリーズでは、物語に出てくる男神と女神の壮絶な戦いを通じて、彼女の生きた時代にも通じる男性と女性の関係や、埋められない溝を描こうとしました。彼女は女性がアーティスト活動することすら稀であった時代において、「染色」という全く独自の技法で道を切り開きました。河原温や草間彌生といった同時代の前衛アーティストともグループ展で作品を発表し、時代の先端を行くアーティストとして活動しましたが、その自由奔放な作風は当時のアートの流行に影響されるものではありませんでした。1959年から62年にかけてアメリカに滞在、帰国後は油絵に回帰して更なる活躍が期待される中、1966年に42歳で急死します。
死後、その作品も才能も長い間見過ごされることになりますが、90年代に入り徐々に国立近代美術館、国立国際美術館をはじめとする国公立美術館での収蔵が始まり、2009年に開催された公立美術館での大規模な回顧展により、今もっとも再評価すべき女性アーティストの1人として注目を浴びています。
桂ゆきは1913年生まれ、芥川紗織の一回り上の世代で、日本で最初の前衛芸術の会である二科九室会の創立に女性で唯一参加しました。戦前の1930年代には細密描写とコラージュと戯画的表現が展開していき、印刷物や布のほか、コルクを隙間なく並べたコラージュ作品や、コラージュと細密表現を並置させた作品がみられます。また、30年代後半からは漫画的な表現を用い、世相を風刺したブラックユーモアのある油絵を制作しています。このような姿勢は戦後も続き、激変していく社会に対してアイロニカルな一定の距離をとりつつ、ユーモラスで批評性のある作品を制作しました。1956年から61年をヨーロッパやアメリカで過ごし、イヴ・クラインやサム・フランシス、マーク・トビーらと親交を深めます。アメリカに滞在中は草間彌生とグループ展に出品したりしつつ、抽象的な作品を制作するようになりますが、そこには和紙がコラージュされ、やがて抽象化された面が生き物のように目や足を持ち、「常に固定観念に対する抵抗を心がけている」という桂らしい表現が見られます。1991年に77歳で亡くなるまで、平易を装いながら、様々な批評的な笑いを散りばめた作品を作り続け、既定のものの見方に揺さぶりをかける姿勢を貫きました。桂ゆきはまさに戦後の日本において独自の表現を確立したアーティストのパイオニア的存在であったものの、他の男性アーティスト仲間らと比べると生涯を通じてその存在は陰に隠れていました。2013年、東京都現代美術館で大回顧展が開催されてようやく、日本でも大きな注目を集め始めることとなります。
女性がアーティストとして活動するのに圧倒的に不利であった戦後期の日本において、それでも権威に迎合することなく独自の表現を自由闊達に展開した芥川と桂。戦後の日本を代表する2人の女性アーティストの作品が同時に多数展示されることは今までありませんでした。本展では芥川紗織の染色画やドローイングを桂ゆきのユーモアある大作とともに展示いたします。多くの皆様にご高覧頂きたく、ご来場をお待ち申し上げております。
★詳しくは、Art Basel Hong Kong 2021公式ホームページをご覧ください。
NUKAGA GALLERY is pleased to announce its participation in Art Basel Hong Kong 2021.
We are delighted to present works by Saori Akutagawa and Yuki Katsura, two radical female artists who represent the dynamic creative transformation experienced by women in post-war Japan. In autumn of 2016, NUKAGA GALLERY hosted a group exhibition titled Demythifying Japanese Women Artists, featuring Yuki Katsura, Yayoi Kusama, Atsuko Tanaka, and Yuko Nasaka.
Since then, we have actively been hosting exhibitions of post-war female artists in efforts to highlight their avant-garde and unique artistic practices that have been long overlooked.
Born in 1924, Akutagawa studied vocal music at university, and began working with hand-dyed batik and oil painting as a self-taught artist in order to express herself while in a typically patriarchal marriage to a composer. In the 1950s Akutagawa gradually began exhibiting her work, using hand-dyed batik techniques which she pioneered to produce the Woman series, which evoked the inner cries of repressed women, and drew the attention of critics. Her Myths and Folktales series, launched in 1955, depicted epic battles between male and female deities in these narratives, in a manner that connected to relationships between men and women in her own time and the unbridgeable chasm between them. She also participated in group exhibitions with avantgarde contemporaries such as On Kawara and Yayoi Kusama, and was one of the most innovative artists of her day, but her freewheeling style was not influenced by art movements of the time. She lived in the US from 1959 to 1962 and returned to oil painting after returning to Japan, yet amid high expectations for even greater achievements, she died suddenly at the age of 42 in 1966. After her death, her work and talent were neglected for a long time, but in the 1990s Japanese public museums gradually began collecting her work, and since a major retrospective at multiple public museums in 2009, she has become one of the Japanese women artists considered most worthy of critical reappraisal.
Artist Yuki Katsura was born in 1913, half a generation before Akutagawa, and was one of the founding members and the only female member of Japan's first avant-garde group, the Nika-kai offshoot Kyushitsu-kai (established 1938). In the pre-World War II era, during the 1930s, she produced caricatural works using meticulously detailed renderings and collage. She attached printed matter and fabric to surfaces, or arrayed corks so they seamlessly filled spaces. In some cases she mixed collage and detailed hand-rendering in a single work. In the late 1930s, she began introducing cartoon-like motifs into oil paintings to create black humorous works that satirized current social conditions. She maintained this stance after the war, creating comical and critical works while keeping a certain ironic distance from a rapidly changing society. She lived in the US and Europe between 1956 and 1961 and
was acquainted with Yves Klein, Sam Francis, and Mark Tobey. While living in the US, she began producing abstract works, which incorporated collaged washi paper, and she finally began giving her abstract creations arms and legs like living creatures. These works embody Katsura's statement, "I always try to resist stereotypes and fixed ideas." Until her death in 1991, she continued producing works that masquerade as plain and straightforward yet incite both critical thinking and laughter in various ways, and remained committed to disrupting conventional ways of thinking. While Katsura was a genuine pioneer in the avant-garde movement, her critical appraisal has just been begun. A major retrospective of her work was staged in 2013 at the Museum of Contemporary Art Tokyo.
Both Akutagawa and Katsura were free and unrestrained in developing their own unique styles without bowing to authority in postwar Japan, where women working as artists were overwhelmingly disadvantaged. In this exhibition, we present Saori Akutagawa's batik works and drawings, as well as Yuki Katsura's large-scale work featuring her sharp humor.
★More Information ⇒ https://www.artbasel.com/hong-kong
開催日程

プライベートビュー(招待制)
5月19日(水)    14:00 – 20:00
5月20日(木)    14:00 – 20:00
5月21日(金)    14:00 – 16:00
5月22日(土)    12:00 – 14:00
5月23日(日)    12:00 – 14:00

ベルニサージュ(招待制)
5月21日(金)    16:00-21:00

一般会期
5月22日(土)    14:00-20:00
5月23日(日)    14:00-18:00
Dates and Hours

Preview (Invitation only)
19 May    14:00 – 20:00
20 May    14:00 – 20:00
21 May    14:00 – 16:00
22 May    12:00 – 14:00
23 May    12:00 – 14:00

Vernissage (Invitation only)
21 May    16:00 – 21:00

Public day
22 March    14:00 – 20:00
23 March    14:00 – 18:00
Artist

Saori Akutagawa (Madokoro) , Yuki Katsura
Venue

Hong Kong Convention & Exhibition Centre
Dates and Hours

Preview (Invitation only)
19 May    14:00 – 20:00
20 May    14:00 – 20:00
21 May    14:00 – 16:00
22 May    12:00 – 14:00
23 May    12:00 – 14:00

Vernissage (Invitation only)
21 May    16:00 – 21:00

Public day
22 March    14:00 – 20:00
23 March    14:00 – 18:00
Artist

Saori Akutagawa (Madokoro) , Yuki Katsura
Venue

Hong Kong Convention & Exhibition Centre