EXHIBITIONS
Art Central 2019
26 March (Tue) - 31 March (Sun)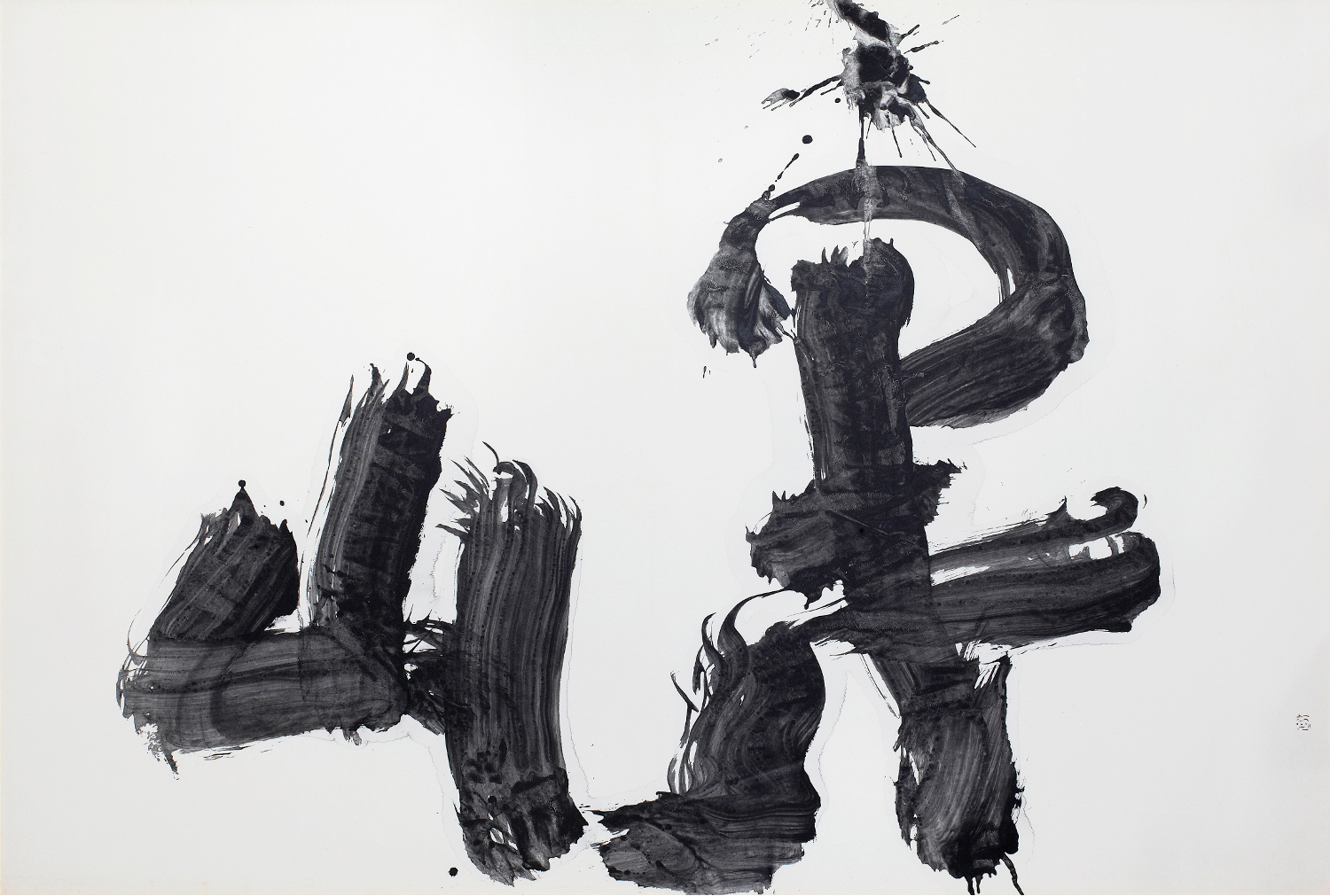 NUKAGA GALLERYはArt Central Hong Kong 2019に出展いたします。
1950年代から国際的にも評価され、近年は世界的に美術館規模での回顧展が開催されるなど、美術史の文脈における評価を確かなものとしつつある井上有一。彼は従来の因襲的な書壇の枠組みを超え、抽象表現主義やアンフォルメルと並び立つ芸術としての書を確立しました。
NUKAGA GALLERYではこれまでも、有一の作品を画廊での展覧会や各国のアートフェアでご紹介してきましたが、今回は個展形式で2mを超える大型作品を中心に出品し、全身を使った筆運びがより迫力を持って感じられる展示をいたします。
有一が生涯をかけて挑んだ「書」の世界を、ぜひご高覧ください。
NUKAGA GALLERY is pleased to announce its participation in Art Central Hong Kong 2019.
We will exhibit Yuichi Inoue's works, a world-wide recognized artist since the 1950s. His works are collected and exhibited internationally. In recent years, there are several retrospective exhibitions held not only in Japan but also China and France. By breaking the conventional calligraphy rules, Inoue created an innovative art form. The artist merged the essence of Western gestural paintings that was widespread since the 1940s in both US and Europe, with the ancient Asian tradition of ink. This bold concept makes his art is regarded as important comparable to Abstract Expression and Art Informel.
This Yuichi Inoue's show, unlike our previous Inoue exhibitions, will be focusing on his larger works which are over two meters. Through these works, one could observe how Inoue devoted himself into this traditional but innovative artistic sense.
We sincerely welcome you at our booth.
NUKAGA GALLERY即將參與Art Central Hong Kong 2019。
此次展覽即將展出以前衛書法受到國際矚目的藝術家井上有一之作品。自1950年代即被國內外美術館肯定並收藏,近年來更於亞洲及歐洲展開大規模的回顧展覽,其不僅挑戰傳統書法型態,並融合了自1940年代於歐美盛行之西方抽象藝術概念的書法創作,使他的作品與抽象表現主義以及不定形藝術同樣受到國際關注。
此次展出內容較之前畫廊展覽和藝博展出的內容不同的是 ,將以個展方式呈現井上的兩公尺以上大尺寸創作,希望藉由大尺寸作品令觀眾可以了解其融合氣與心之創作。
衷心期盼各位蒞臨參觀井上有一的作品。
会期

3月26日 (火) 14:00 – 17:00  VIP プレービュー

3月26日 (火) 17:00 – 21:00  ファーストナイト

3月27日 (水) 11:00 – 17:00  一般公開

3月28日 (木) 12:00 – 21:00  一般公開

3月29日 (金) 12:00 – 21:00  一般公開

3月30日 (土) 11:00 – 19:00  一般公開

3月31日 (日) 11:00 – 17:00  一般公開
Date

26  March 14:00-17:00  VIP Preview
26  March 17:00-21:00  First Night
27  March 11:00-17:00  Public Day
28  March 12:00-21:00  Public Day
29  March 12:00-21:00  Public Day
30  March 11:00-19:00  Public Day
31  March 11:00-17:00  Public Day
Venue

Central Harbourfront Event Space 9 Lung Wo Road, Central, Hong Kong
Exhibited Artists

Yuichi Inoue
Date

26  March 14:00-17:00  VIP Preview
26  March 17:00-21:00  First Night
27  March 11:00-17:00  Public Day
28  March 12:00-21:00  Public Day
29  March 12:00-21:00  Public Day
30  March 11:00-19:00  Public Day
31  March 11:00-17:00  Public Day
Venue

Central Harbourfront Event Space 9 Lung Wo Road, Central, Hong Kong
Exhibited Artists

Yuichi Inoue