BLOG
ART FAIR TOKYO 2017 作品紹介 | Hisao Domoto
TAG

# ART FAIR TOKYO

# Hisao Domoto
The third work that we would like to introduce is 'Composition Binaire 1962-44' by Hisao Domoto. He is an artist who keeps challenging new styles in different periods, in order to accomplish his works. This transformation can be realized by looking at his works so far.
Hisao Domoto was born in a well-known artist family in Kyoto in 1928, as a cousin of renowned Nihonga artist, Inshio Domoto. Therefore, he had a prominent environment for cultivating aesthetic taste and was able to absorb some contemporary knowledge in the art realm from a young age. Taking prizes in regional and national Ninhonga competition in his twenties, he was expected to be a great Nihonga artist. However, at the age of 24, his travel experience to Europe impale his desire to try something new, in contrasts to the typical Nihonga. In 1955, with the permission from his father and uncle, he enrolled in École des Beaux-Arts in Paris for a short-term course as a student. Introduced by Toshimitsu Imai, he joined Art Imformel movement (a group of avant-garde artists, including Sam Francis and Jean Dubuffet, who were aiming to try new forms of expression from 1940s to 1950s.) as one of the main artist in this group. Devoting in abstract oil painting during this period, we can tell that his desire of expressing his concept in oil painting, which he was not able to fully express in Nihonga. Strong color combination but with light brushstrokes engages his audiences. His style draws attention and allows his audiences to emerge as a part of his works easily. Therefore, Domoto's distinct works caught people's recognition in his several exhibitions in Paris, New York and Tokyo.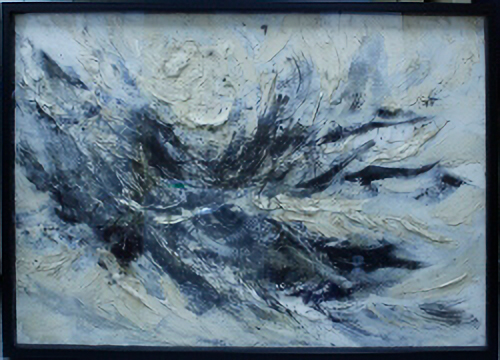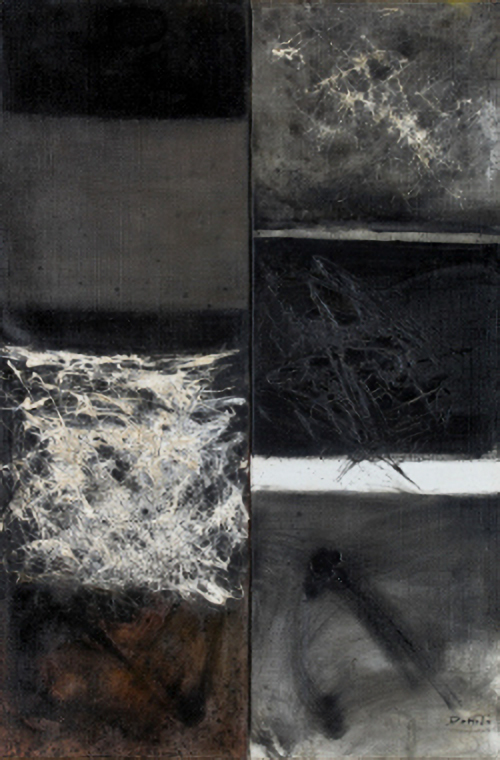 As mentioned earlier, Hisao Domoto is not the kind of artist that dedicates himself in one form or method. From his Art Informel period's works, it is not difficult to figure his desire to express the connection between human, nature and universe. Layered with different colors as the foundation and by spreading the tubes directly on top of it, the painting expresses a three-dimensional spatial sense.His desire to embrace this oil painting style drew people's attention quickly. This is unlike any other Art Informel artists. We can say that although he created a relatively new style in European oil painting, Japanese cultural spirit influence is still strong present in his works. After several years as a main member in Art Informel group, he finally started his diptych series by combing two or more canvas together in around 1962, which breaks the boundary of what one canvas can express. This unique style is originated from Byobu (Japanese folding screen), which usually decorate house with Nihonga or calligraphy on it. This Composition Binaire 1962-44, is his representative work from his 'Ensemble Binaire' series. Two vertical canvases were combined together making the abstractive three dimension in these two flat canvases. From the left canvas, we can tell that artist applied orange and pink color as foundation on the bottom part. It is like the birth of a hope but then fall into a chaos with white tube directly applied on it and then engraved it with painting knife. This arbitrary way can be explained that the artist was facing creative or say identity difficulty at that time. On the contrary, the right canvas seems more calm but still hopeless. In other words, the artist was trying to separate his thought and organized it by two white lines. Compared to the left part, the painting on the right was applied with the same style. However, it doesn't have the strong color contrast. He used grey color as the foundation and white color as the addiction to express the sense of chaos. In the middle part, the small area of black oil tube and scratches by the painting knife are the most eye-catching part of this painting; colorless but deep and unpredictable at the same time. These two canvases can be applied for an idea about Yin and Yang. They seem contrary when we see it separately, but when we see them as one, it somehow shows its harmony.
Although Hisao Domoto successfully challenged himself again with 'Ensemble Binaire' series during 1962 and 1963, he terminated his relationship with Art Informel and Stedler Gallery in May, 1962. The reason was that 'Ensemble Binaire' series entirely went out the acceptation of the Art Infomel's ruler, Michel Tapie. This made Hiso Domoto changed from a supported artist to a no financial support artist in the same year. Therefore, his lost disoriented sense in art can be easily recognized in this Composition Binaire 1962-44 work.
For ART FAIR TOKYO 2017, we will present Hisao Domoto's work from the 1950s to 1970s. We welcome you to come experience his artistic transformations.
By Wendy